Pedagogy for scientific research: New vistas with SHS 11-12
Abstract
With the aim of contributing much needed numbers to Philippine scientific output, especially that which impacts intellectual and socio-economic domains of interest of the populace, we have defined research thrusts appropriate for grades 11-12 of senior high school (SHS) that have a high chance of spawning publishable original work. In this talk, we shall present the underpinnings of such strategic research development plan and detail some areas covered in the list. To demonstrate feasibility, we show some preliminary work done in marine biophysics research, an area chosen since: (1) the Philippines is among marine biodiversity hotspots, (2) an estimated 70% of marine life remain undocumented and lacks systematic study, and (3) skill sets required for technology-aided taxonomic identification and theoretical biophysical analysis can be designed to be appropriate for SHS. We shall also describe how academic and attitudinal preparation of SHS students is carried out through the method of the Central Visayan Institute Foundation (CVIF) Dynamic Learning Program (DLP)*. For the benefit of science educators in the conference, we will discuss the design and presentation of sample CVIF DLP learning activity sheets in SHS 11-12 physics, chemistry and mathematics, inasmuch as novel pedagogical principles are invoked in the CVIF DLP approach for enhanced learning of these subjects whether or not there are sufficient qualified teachers and material resources.
* Carpio-Bernido, M. V. and Bernido, C. C. (2004). Science Culture and Education for Change, Part I: Innovative Strategies for Secondary Education in the Philippines. In Transactions of the National Academy of Science and Technology, Philippines (Vol. 26, No. 2, pp. 243-267); Carpio-Bernido, M. V. and Bernido, C. C. (2011) CVIF Dynamic Learning Program: A Systems Approach to Process-Induced Learning, In Proc. of epiSTEME 4 (Mumbai: HBCSE); Carpio-Bernido, M. V., Bernido, C. C. and Carpio, J. A. Z. (2014) CVIF Dynamic Learning Program Reference and Management System Manual Version 2.1 (Jagna, Bohol: CVIF)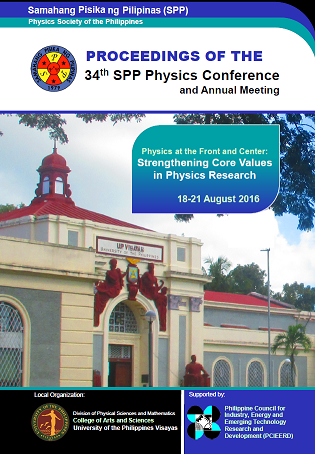 Downloads
Section
Invited Presentations
How to Cite
[1]
MV Carpio-Bernido, Pedagogy for scientific research: New vistas with SHS 11-12, Proceedings of the Samahang Pisika ng Pilipinas 34, SPP-2016-PT-2 (2016). URL: https://proceedings.spp-online.org/article/view/SPP-2016-PT-2.