Searching for substrate-supported 2D topological materials
Abstract
Two-dimensional (2D) topological insulators (TIs), also known as quantum spin Hall (QSH) insulators, are recently discovered novel materials in which, even though the bulk material is insulating, the system still supports spin-polarized, gapless edge states with Dirac-cone-like linear energy dispersion. Growing substrate-supported 2D topological insulators which can be integrated into the modern silicon industry is highly desired for spintronics. In our previous works, we predicted serveral 2D topological insulators using first-principles electronic structure calculations, including planar Bi/Sb on insulating SiC substrate and surface alloys formed on chain-honeycomb-trimer (CHCT) of Au/Si(111)-√3 surface. Recently, we found that germanene asymmetrically functionalized with H and N atoms (GeHN) could harbor a quantum anomalous Hall (QAH) phase, due to an induced magnetization causing the time-reveral symmetry breaking. Moreover, N-passivated germanene on a CdTe substrate also supports the QAH phase. These findings suggest new opportunities for the scientists in the field of surface science.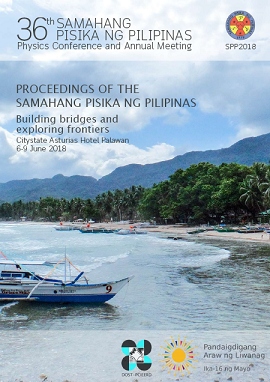 Downloads
Article ID
SPP-2018-INV-2E-02
Section
Invited Presentations
How to Cite
[1]
F-C Chuang, Searching for substrate-supported 2D topological materials, Proceedings of the Samahang Pisika ng Pilipinas 36, SPP-2018-INV-2E-02 (2018). URL: https://proceedings.spp-online.org/article/view/SPP-2018-INV-2E-02.