Challenges and opportunities in space development: Toward the creation of a Philippine space agency
Abstract
Located in Southeast Asia, the Philippines is characterized as an emerging and developing country that has exhibited strong economic performance in recent years. However, it has overlooked the creation of a formal space program in the past few decades due to various reasons such as the lack of awareness on the benefits of space, political iswill, and budget constraints. These factors have led to the Philippines ranking in the bottom half of ASEAN countries in terms of space systems infrastructure development.
Since 2013, the Department of Science and Technology (DOST) through the Science Education Institute (SEI) and Philippine Council for Industry, Energy and Emerging Technology Research and Development (PCIEERD) has been conducting various initiatives and projects for space education and development in the country. The current approach being conducted by DOST aims to ensure that the space program will be beneficial to Filipinos, sustainable over time, and cost-effective to assure the niche of the Philippines in the global space community.
In this talk, I will present the history of space education and development in the Philippines, focusing on the recent activities of the Philippine Space Science Education Program (PSSEP), the creation of a Philippine Space Development and Utilization Policy, and the legislative push for a Philippine Space Agency. I will be discussing the various initiatives under the PSSEP that aims to spur academic interest among the youth to pursue careers in space-related fields. I will also expound on the strategies undertaken by the National SPACE Development Program (NSDP) in creating various roadmaps and identify the essential steps that enabled the Philippines to progress rapidly in space development in a short span of time. I will emphasize the six Key Development Areas identified, the proposed structure of the Philippine Space Agency and various development roadmaps that are being created. Finally, I will identify the challenges and problems encountered and how solutions were obtained to address these issues. Finally, I will be discussing the various space development roadmaps that the Philippines will undertake within the next ten years.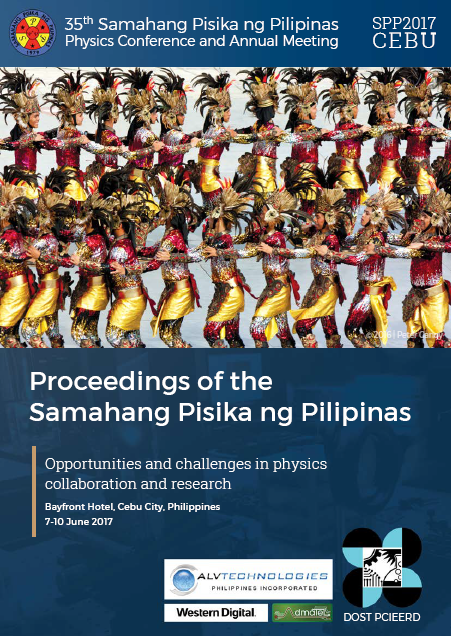 Downloads
Article ID
SPP-2017-INV-1A-03
Section
Invited Presentations
How to Cite
[1]
RM Sese, Challenges and opportunities in space development: Toward the creation of a Philippine space agency, Proceedings of the Samahang Pisika ng Pilipinas 35, SPP-2017-INV-1A-03 (2017). URL: https://proceedings.spp-online.org/article/view/257.